gallery > Autox 12/01/19
Where'd you race today?
(2) of the local RS owners decided to go autocrossing at NOLA Motorsports Park in New Orleans, LA today.

I trailered my RS again to this event. This keeps the miles off the RS and eliminates the need to swap from street wheels/tires to my autox setup. I arrived at NOLA Motorsports Park around 7:45am. I then registered and passed tech. I got to run first, and we got to complete all (6) runs in the same session. I ran in the Street Mod (SM) class again with another RS owner.

Weather was a nice 64F sunny morning, and opened up to a 67F sunny afternoon. Windy all day. All racers got (6) runs in a single heat. Then we worked. Note #1: The large sweeper before the final slalom was modified after the map was published for safety reasons. Slight deviation from the map. Note #2: The results look deceptive. We had 39 drivers, but only 38 had official times. This was because (1) racer had a DNF on all of his runs (kept getting lost).

Click on the pictures below to see the course map, raw results, and run results. I took 1st in the SM category by 1.401 seconds ahead of Chris in his RS (built engine, stage 3 head, bolt-on turbo, full suspension, RE-71s, and self-tuned mad power/torque). Out of 39 drivers I had FTD (Fastest Time of the Day) by 1.063 seconds. :)
Notes for my 39.556 run:
All racers got 6 runs. My 5th run was my quickest.

1. Tune+ W400 kit, full exhaust, JBR motor mounts, JBR shifter
2. Launch control ON at 4000rpm. ESC + Traction Control OFF. Track Mode. Sport Dampers off (MCS TT1 suspension).
3. 275/35/R18 Bridgestone RE-71R tires. Final hot pressures = 34 psi front, 22 psi rear. Camber = -3.1 front, -2.9 rear. Zero toe F/R.
4. Front MCS shocks at 15 out of 18 clicks, and the rear at 9 out of 18 clicks.
5. 3/4 tank of 93 octane from Walmart.
6. 282.46 lb of weight reduction.
7. MCS TT1 suspension, Whiteline F&R sway bars, Pierce Motorsports F&R subframe braces, and Massive (Rear) Strut Brace + Camber Arms + Toe Arms.
8. Estimated vehicle race weight 3240 lb.
9. Odometer passed 5570 miles today.
10. Total runs on the Bridgestone RE-71R tires so far: (85).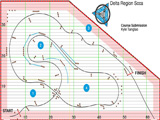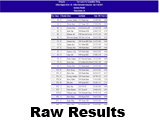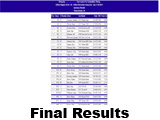 Head-to-Head comparison of me vs Chris in the other SM Focus RS (me on top).