About My Ford RS
Why did you buy a 2016 Ford RS?
I've had a handful of turbo AWD 4-cylinder cars in my life. For the most part they always brought me joy when behind the wheel. For one particular vehicle the more speed parts I put on it the slower it got. I don't want to repeat that with my RS. Cheap/Fast/Reliable - You only have 2 choices unfortunately. Therefore, I choose Fast/Reliable.

The 2016 Ford RS fit my checklist - turbo, AWD, 4-cylinder, and as an added plus it is a hatchback! I like the rareity of it as well. It took 7 months from the time of purchase to get it from Germany where it was made. Unless I'm at a local car show I probably won't ever see another one. A total of 34,034 were built worldwide for the 3 year run. A chart listed 3,528 as the total number sold in the U.S. for 2016, an increase to 6,571 for 2017, and the final year of 2018 dropped to 1,000 units. My 2016 RS is only 1 of 634 in the color Frozen White sold in the U.S.
what you need to know
The 2016-2018 Ford RS is the third generation of Focus RS following the 2002 and 2009 models. It's also the 30th RS performance car from Ford since 1968, and the first with pro-rally driver and legendary Hoonigan Ken Block as a development consultant. Historically, the Focus RS is a model renowned for performance, everyday practicality, and a down-to-earth price tag. And the new model takes this philosophy to extremes.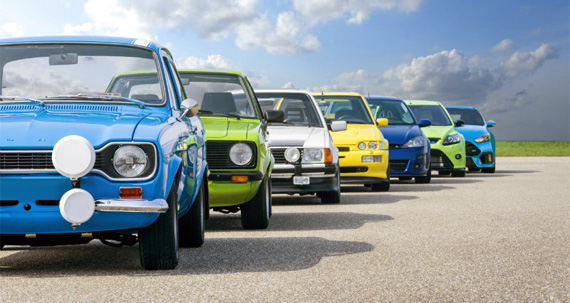 RS Highlights
2.3 liter Ecoboost turbocharged & intercooled inline-4 engine. Aluminum block and head with integrated exhaust manifold. DOHC valvetrain, 4 valves per cylinder, twin independent variable camshaft timing. Honeywell low-inertia twin-scroll turbocharger. Direct fuel injection. 9.4:1 compression ratio. 138 cubic inches. Output: 350 HP at 6000rpm, 350 lb-ft at 3200 rpm.
The Ford RS uses the GKN Twinster system. The Ford Performance All-Wheel-Drive system is based on twin electronically controlled clutch packs on each side of the rear drive unit. These manage the car's front/rear torque split, and can control the side-to-side torque distribution on the rear axle - delivering the "torque vectoring" capability that has a dramatic impact on handling and cornering stability.

The control unit in the rear drive unit continuously varies the front/rear and side-to-side torque distribution to suit the current driving situation, monitoring inputs from multiple vehicle sensors 100 times per second. A maximum of 70 percent of the drive torque can be diverted to the rear axle. Up to 100 percent of available torque at the rear axle can be sent to each rear wheel.

During cornering, the rear drive unit pre-emptively diverts torque to the outer rear wheel immediately based on inputs such as steering wheel angle, lateral acceleration, yaw and speed. This torque transfer has the effect of "driving" the car into the bend, achieving improved turn-in and stability, and virtually eliminating understeer.

Translation: There isn't a center differential, but the rear diff has an electronically-controlled clutch pack that can send up to 70% of the power to the rear axle. It has another clutch pack that acts as an electronic LSD for the rear axle. The rear diff does active (i.e. not brake-based) torque vectoring.

To deliver optimum driving dynamics, the Ford Performance All-Wheel-Drive system was calibrated alongside the car's advanced Electronic Stability Control, in particular the brake-based Torque Vectoring Control system that works in parallel with the torque-vectoring AWD.

Translation: For 2016 and 2017 models the front differential is an open differential with brake-based torque vectoring. All 2018 models were equipped with a Quaife front LSD.
Four selectable drive modes (Normal, Sport, Track, Drift) for optimum performance in road or track driving conditions, including an industry-first Drift Mode for controlled oversteer drifts on track. Delivers a more capable and flexible vehicle - ready for every-day driving or hard track driving. Variable AWD settings optimize the handling character to suit different driving conditions. Drift Mode features unique AWD calibration which modifies torque distribution to help initiate and control oversteer drifts.