gallery > Autox 09/22/19
Where'd you race today?
(3) of the local RS owners decided to go autocrossing at the Lamar Dixon Facility in Gonzales, LA today.

I arrived at the Lamar Dixon Facility around 7:30am. Once I got registered and passed tech, I walked the course a few times. I drove to the event on my Enkei wheels with newly installed 275/35/R18 Bridgestone Potenza RE-71R tires. Our local SCCA chapter splits up the runs into (2) heats. I worked first, then got (3) runs. We all took a late lunch. Then I worked and ran my final (3) runs. I ran in the Street Mod (SM) class with another RS owner, and the third RS owner ran in D Street (DS).

We all got (6) runs today. I love Cenla SCCA! Weather was beautiful but warm, high 80s and partly cloudy skies. The wind blew a few times today. :) A Miata owner designed the course, so it had multiple slaloms and tighter elements. I could really feel the RDU rotating my RS while giving it the beans at WOT. Continue to love the new RE-71R tires. Make sure to click on the pictures below and watch the video as well for the crossover jump about mid-track.

After the race I stopped by a certified scale, and my RS weighed in at 3,240 lb (7/8 tank of fuel, no driver). My previous low weight listed on my modification page is with 10 miles to empty.

Click on the pictures below to see the course map, raw results, run results, overall standings, and car setup. I took 1st in the SM category by 0.701 seconds ahead of Chris in his RS (built engine, stage 3 head, bolt-on turbo, full suspension, RE-71s, and self-tuned mad power/torque). Out of 58 drivers I placed 3rd overall behind a double driver FSAE car from LSU (3.339 seconds behind FTD). Some drivers said I could still claim FTD, Fastest Time of a Doorslammer. :)
Notes for my 41.794 run:
All racers got 6 runs.

1. Tune+ W400 kit, full exhaust, JBR motor mounts, JBR shifter
2. Launch control ON at 4000rpm. ESC + Traction Control OFF. Track Mode. Sport Dampers off (MCS TT1 suspension).
3. 275/35/R18 Bridgestone RE-71R tires. Final hot pressures = 34 psi front, 20 psi rear. Camber = -3.1 front, -2.9 rear. Zero toe F/R.
4. Front MCS shocks at 15 out of 18 clicks, and the rear at 9 out of 18 clicks.
5. 7/8 full tank of 93 octane from Walmart.
6. 282.46 lb of weight reduction.
7. MCS TT1 suspension, Whiteline F&R sway bars, Pierce Motorsports F&R subframe braces, and Massive (Rear) Strut Brace + Camber Arms + Toe Arms.
8. Certified vehicle race weight 3,240 lb (7/8 tank of fuel, no driver).
9. Odometer didn't pass 5400 miles today (live 10 miles from the track).
10. Total runs on the Bridgestone RE-71R tires so far: (31).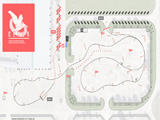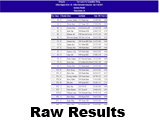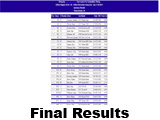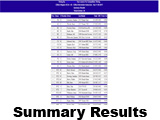 Head-to-Head comparison of me vs Chris in the other SM Focus RS (me on top).