gallery > Autox 10/20/19
Where'd you race today?
I decided to go autocrossing at the Ike Hamilton Expo Center in West Monroe, LA today. This was my first time to race at this venue.

I trailered my RS to this event. This keeps the miles off the RS and eliminates the need to swap from street wheels/tires to my autox setup. I stayed at a nearby hotel, so I arrived at the Ike Hamilton Expo Center around 7:30am. My 2017 F150 FX4 trip computer said I got 14.1 mpg. Still pretty decent for all of the hills. I got registered and passed tech. I ran in the Street Mod (SM) class again.

The course was wet from an overnight rain. The sun broke early and the track was dry for the after sessions with mid 80s temperature. All racers got (8) runs broken up into (2) 4-run heats while working in between. I got to run first. No lunch break.

Click on the pictures below to see the course map, raw results, summary, and run results. I took 1st in the SM category by 5.200 seconds. Out of 18 drivers I had FTD (Fastest Time of the Day) by 0.649 seconds!
Notes for my 41.292 run:
All racers got 8 runs. My 8th run was my quickest.

1. Tune+ W400 kit, full exhaust, JBR motor mounts, JBR shifter
2. Launch control ON at 4000rpm. ESC + Traction Control OFF. Track Mode. Sport Dampers off (MCS TT1 suspension).
3. 275/35/R18 Bridgestone RE-71R tires. Final hot pressures = 34 psi front, 22 psi rear. Camber = -3.1 front, -2.9 rear. Zero toe F/R.
4. Front MCS shocks at 15 out of 18 clicks, and the rear at 9 out of 18 clicks.
5. 1/4 tank of 93 octane from Walmart.
6. 282.46 lb of weight reduction.
7. MCS TT1 suspension, Whiteline F&R sway bars, Pierce Motorsports F&R subframe braces, and Massive (Rear) Strut Brace + Camber Arms + Toe Arms.
8. Estimated vehicle race weight 3190 lb.
9. Odometer passed 5490 miles today.
10. Total runs on the Bridgestone RE-71R tires so far: (51).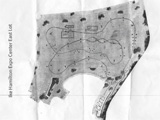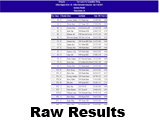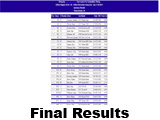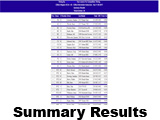 No GoPro footage today. I left it in the truck and couldn't make it back all day. :(