gallery > Autox 09/15/19
Where'd you race today?
(2) of the local RS owners decided to go autocrossing at the Baby Cakes Stadium in New Orleans, LA today. Baby Cakes is a minor league baseball team in New Orleans.

I arrived at the Baby Cakes Stadium around 7:15am. I swapped the OE Forged wheels + Michelin Pilot Super Sports for my 18x9 Enkei RPF1 wheels + 275/35/R18 Bridgestone Potenza RE-71R tires. I then got registered and passed tech. Racers were broken up into (2) groups. I ran a 3-run heat first and then worked just before lunch. Repeat of running another 3-run heat and then finished working at the end of day. I was in the Street Mod (SM) class with the other RS owner, and he had a co-driver that won the ESL class at the Nationals in Lincoln this year. She ended up beating me by 0.563. That car is fast! Tons of mods (built block, Mountune head/cams, aftermarket turbo, etc.).

We all got (6) runs today, but a few got a re-run due to a timer error. Weather was warm in the morning with cloud cover. Afternoon session was HOT and sunny.

Click on the pictures below to see the course map, raw results, run results, and car setup. Out of 44 drivers I had the 2nd fastest time of the day!
Notes for my 41.555 run:
All racers got 6 runs. My 5th run was my quickest.

1. Tune+ W400 kit, full exhaust, JBR motor mounts, JBR shifter
2. Launch control ON at 4000rpm. ESC + Traction Control OFF. Track Mode. Sport Dampers off (MCS TT1 suspension).
3. 275/35/R18 Bridgestone RE-71R tires. Final hot pressures = 34 psi front, 20 psi rear. Camber = -3.1 front, -2.9 rear. Zero toe F/R.
4. Front MCS shocks were at 15 out of 18 clicks, and the rear at 9 out of 18 clicks.
5. 3/4 tank of 93 octane from Valero.
6. 282.46 lb of weight reduction.
7. MCS TT1 suspension, Whiteline F&R sway bars, Pierce Motorsports F&R subframe braces, and Massive (Rear) Strut Brace + Camber Arms + Toe Arms.
8. Estimated vehicle race weight 3195 lb.
9. Odometer passed 5400 miles today.
10. Total runs on the Bridgestone RE-71R tires so far: (25).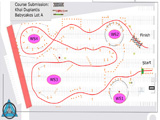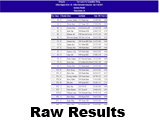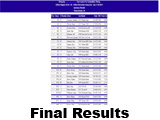 Head-to-Head comparison of me vs ESL National Champ driving my buddy's Focus RS in SM (me on bottom).